Variety Program : Durga Puja 2017
 "Emono Diney Tarey Bola Jai"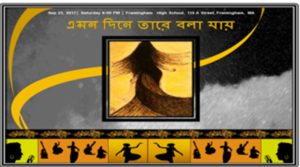 Prabasi of New England presents "Emono Diney Tarey Bola Jai" an ensemble presentation based on an emotional journey through the fitful fascinating alternations of a rainy day. Choreographed in semi-classical and creative style of dance, the production will feature gifted local singers like Bonya Ray and many others, talented musicians and close to 50 participants across multiple age groups from the community of greater Boston.
Directed by Pubali Banerjee and showcasing an infusion of transcendental contemporary, fusion and traditional music, "Emono Diney Tarey Bola Jai" is set to premier at the Framingham High School on Saturday, Sep 23, 6:00 PM
Participants: Meghna, Riana, Aurelia, Siyona, Adrita, Apoorva, Shubhom, Shivay, Emon, Shiron, Shankha, Simi, Sanjhbati, Anika, Hemantika, Rai, Vasundhara, Anjalie, Swati Biswas, Pooja Banerjee, Leema Barua, Ohona Barua, Rishika Pal, Diyala Bera, Neeharika Das, Smita Chatterjee, Tulika Biswas Chakrabarty,  Mousumi Dey, Debjyoti Ghosh, Abhijit Bhrahmachari, Sharmishtha Bera, Hena Banerjee, Debadeep Bhattacharya , Nabaneeta Nag, Joy Nag, Shubhankar Choudhury, Indranil Sarkar, Bonya Ray, Pubali Banerjee
Recitation: Mousumi Dey and Debajyoti Biswas
Choreography & Dance Production: Debarati Mukherjee Ganguly, Swati Biswas, Pubali Banerjee.
Costumes: Smita Chatterjee, Nilu Chatterjee, Swati Biswas, Pubali Banerjee
Lighting: Shantanu Sen
Digital/Audio Management and Production: Debasis Bera
Sound Production: Jawed Wahid
Live Music Direction/Production and Featured singer: Bonya Ray
Concept, Script Adaptation, and Direction by Pubali Banerjee
In Search of roots:  Kalikaprasad & Rabindranath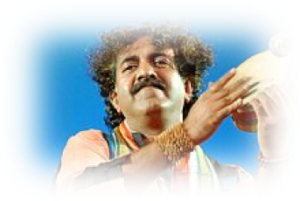 Kalikaprasad Bhattacharya was truly an exception.  When Bangla music turned towards rock and Western pop music, Kalikaprasad concentrated on roots of Bangla music, and formed a folk band, 'Dohar'.  He looked into songs of baul-phakir-boatmen of riverine Bengal to search for the source of contemporary Bangla songs, particularly that of a rich bounty of Rabindrasangeet, the songs of Rabindranath Tagore. 
Swaralipi Academy of Music, in its tenth year of existence, has been devoted to nurturing and propagating Rabindrasangeet in the New England area.  Its members will re-create a few Dohar-songs with a multi-media presentation to focus upon the confluence of Bangla root-music and Rabindrasangeet.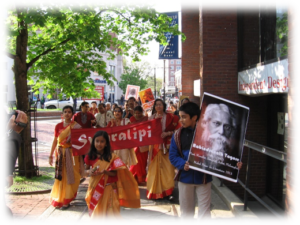 Today we live in a restless world, a divisive world where words and ideology do not offer peace and unity of thoughts. So,  tonight, we will go for a journey back to a time, where passion and devotion joined hands. Tonight, we want to celebrate a truth of our lives, 'Ruposhi Bangla'. 
Dance: Shilpi Verma
Recitation: Shantanu Bagchi
Vocal: Jayati Banerjee
Program Concept and direction: Jayati Banerjee
A Kathak Bharatnatyam fusion presentation that combines the art forms of classical dance with contemporary musical creations. A Jugalbandi connecting Bikram Ghosh' Tandav to classical take on Indian cinema.

Participants:
Sujaya Ghosh, Debashree Mandal, Swadhina Guhathakurta

 
As we all Bengali's have gathered here a thousand miles away from east our motherland to celebrate our biggest festival here in west likewise you will witness a beautiful amalgamation of east and west in this popular dance number because music has no barriers.
Sunanda and Group are presenting fusion dance on a very popular numbers by Ed Sheeran and solo performance of Lord Krishna growing up to adolescence.
Group dance participants: Joyeta Sarkar, Shreyashi Roy Neogi, Ishita Basu and Sunanda Ghosh 
Group name: Sunanda and group
Prateek Poddar is a singer-songwriter from Weston, Massachusetts. He first picked up the guitar in middle school and began writing songs in college influenced both by classic folk artists such as Peter, Paul, and Mary, and contemporary artists such as Jason Isbell and Ryan Adams. In February 2016, he recorded his first EP, "Walking in My Sleep," in a bedroom with only his guitar, harmonicas, and two microphones. Prateek currently resides in Boston."
Seema Dasgupta is a disciple of Smt. Neena Gulati, will pay her tribute to Goddess Durga, who is both Amba – the mother and protector, Bhairavi – the warrior and destroyer of evil.