Summer Picnic : Sunday, Aug 19th, 2018
Due to stormy weather, our annual Prabasi picnic has been rescheduled to Cochituate Park on Sunday, August 19th at 10 am. Please use the entrance on Route 30 in Natick and look for signs for Prabasi Picnic. See you all on Sunday!!!!

Location:

Cochituate State Park , Natick, MA.
Date: Sunday, August 19th, 2018.
Time: 10am – 6pm.

Picnic Menu:



Just like last year, we will cook food on site. This year we are planning to cook Kasha Chicken on site.
| | |
| --- | --- |
| Snacks | Ghoogni and Bhel chat |
| On the BBQ | Hot Dog, Chicken and Corn-on-the-cob |
| Lunch | Polao, Dal Fry, Aloor Dum, Egg Curry |
| In the cooler | Cold drinks, juices and Lassi |
Cards for community program:

"Every child is an artist. The problem is how to remain an artist once he grows up." – Pablo Picasso.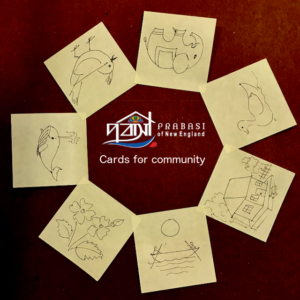 A very thought-provoking quote as we wonder why can't we pick up a pencil and draw like a child! While life's demand may keep us busy or make us too fragile to hold a pencil or a paintbrush, we can experience art through a child's eye!
Prabasi is planning to kick-off an activity for the kids to draw greetings cards which will be sent to select nursing homes, children's hospital or to a family member.
Please bring your crayons, coloring pencils or other drawing supplies at the picnic.
Prabasi will provide the blank greetings cards.
We are looking forward to showing off our talents during Durga Puja by displaying these cards.
We plan to send it for the holiday season, so a couple of religion-neutral themes will be proposed as the subject of these greetings cards.
Prabasi is launching the Cards for Community program this year at the Summer Picnic.