Sharadutsav 2018 : Schedule and Food Menu
Chelmsford High School
200 Richardson Road, North Chelmsford, MA
October 19, 20 & 21, 2018
Prabasi is happy to announce 3-day Sarodutsav 2018 with top artists from India. Friday night, Puja includes a scrumptious dinner along with the rocking concert of Nachiketa (for the 1st time in the USA in a long time). Saturday 's program includes Sasti, Saptami and Ashtami Puja, sandhya aarati, lunch and dinner followed by another evening of concert by Zee Bangla stars Jimut and Pausali. The festival ends with Nabami and Dashami Puja along with sindoor khela and daker naach on Sunday. Evening concert includes that from Bangla band Chandrabindoo with their JUJU concert! We understand that you have many choices in Boston for Durga Puja and we are hoping that you will choose to come to Prabasi. We are expecting the shows to be sold out and we encourage people to buy online. Please check back our website frequently for when tickets go live. We will also post here when it does.
Nachiketa, Jimut & Poushali and Chandrabindu show tickets are selling fast.
Buy your Sharadutsav 2018 tickets online to reserve your seats for the two best known Bengali singers Nachiketa, Jimut, Paoushali and Bangla Band Chandrabindu.
Schedule
* Note: Please note that schedule is subject to change.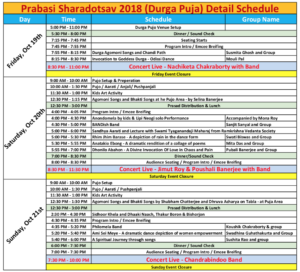 Food Menu
** Kids can choose to eat adult menu or Pasta and more alternative.
Adult Menu

Friday

Saturday

Sunday

Lunch

Khichudi

Labra 

Alu Gobi 

Chutney/ Papad

Misti 

Rice with Ghee

Moong Daal

Alu Patal 

Chutney

Misti

Dinner

Chicken Kabob Biryani 

Fish Fry / Veg Chop

Matar Paneer 

Raita 

Misti 

Polao

Channa Daal

Navratan Korma

Chutney 

Misti

Jeera Rice

Goat curry or Echor (Veg.)  

Shahi Paneer

Chutney

Misti