As the hot Boston summer is about to give way to pleasant fall weather, we are gearing up for our much-awaited annual Durga Puja event this year. At Prabasi, our Durga Puja celebration promises to be unique and exclusive, a singularly spectacular and enriching experience like you have never seen before in Boston. Do not miss Durga Puja at Prabasi of New England this year. Join us to celebrate this auspicious occasion on Oct 20, Oct 21, and Oct 22.
Venue
Burlington Middle School, 114 Winn St, Burlington MA
SPECIAL ATTRACTION: Prabasi Durga Puja celebration is an integral part of the Bengali socio-cultural diaspora in Boston and New England. Always exceptional in grandeur, festivity, and devotion, this year we have a special Durga Puja attraction: Our brand-new traditional Durga Pratima from Kumartuli in Kolkata. GET YOUR TICKETS NOW!
MEGA HIT LIVE CONCERTS: With a BLOCKBUSTER entertainment lineup on Fri Oct 20, Sat Oct 21 and Sun Oct 22, prepare to be BEDAZZLED with Never-Before-Seen LIVE SHOWS and debut artist performances presented by international celebrity artists and musical heart throbs, evocative semi-classical multidimensional jugalbandis combining mesmerizing dance and vocals, all-time smash hits presented by Indian playback singers showcasing A.R. Rahman and Mani Ratnam's Magnus Opus film creations, from Bollywood and Golden Era Greatest hits to Manna Dey numbers, from sensational heart stirring Tagore and Thumri compositions to Rafi & Ragas, our featured artists will rock LIVE BAND CONCERTS every night alongside non-stop local programs featuring top class entertainment for your enjoyment.
GET YOUR MEMBERSHIP PASSES NOW!
Featured Artist Presentations:
Friday, Oct 20th
Baithak: An Evening of Timeless Music
Sounak Chattopadhyay & Shalini Basu
Saturday, Oct 21st
Antara Nandy & Band
Sunday, Oct 22nd
Ankita Bhattacharya & Band Pulse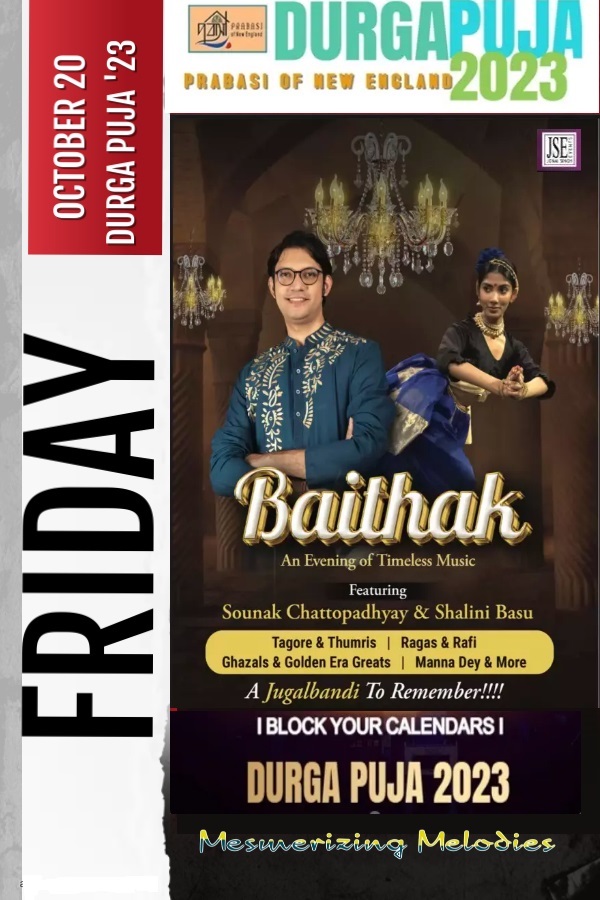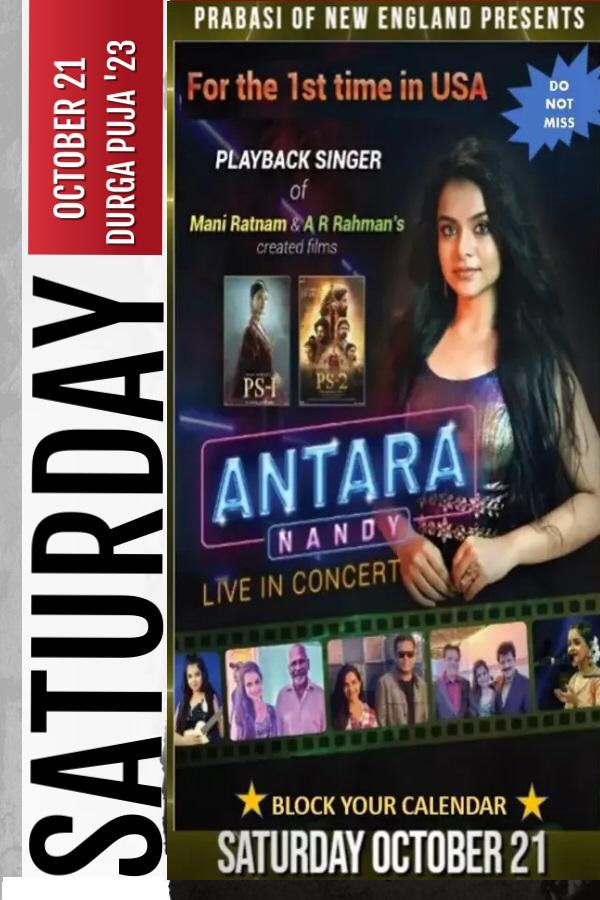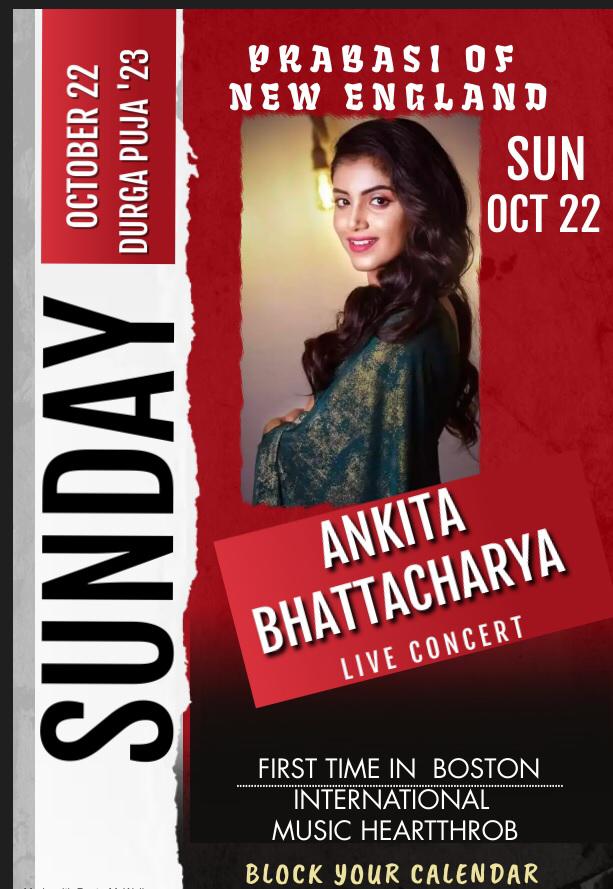 Hurry, and get your yearly membership as soon as possible, at the special low rates!!
For those who would like non-member passes, the prices for these exciting events are available online now at a special price honoring Labor Day. Labor Day prices expire on September 18, 2023.
Family Passes for Durgotsav 2023 (Labor Day Special)
| | |
| --- | --- |
| All Inclusive 3 Day Pass – Family – Fri Sat Sun | USD 245.00 |
| All Inclusive 2 Day Pass- Family – Fri Sat | USD 195.00 |
| All Inclusive 2 Day Pass- Family – Sat Sun | USD 220.00 |
| All Inclusive Day Pass – Family – Sat | USD 150.00 |
| All Inclusive Day Pass – Family – Sun | USD 150.00 |
Individual Passes for Durgotsav 2023 (Labor Day Special)
| | |
| --- | --- |
| All Inclusive 3 Day Pass – Individual – Fri Sat Sun | USD 150.00 |
| All Inclusive 2 Day Pass – Individual – Fri Sat | USD 120.00 |
| All Inclusive 2 Day Pass – Individual – Sat Sun | USD 130.00 |
| All Inclusive Day Pass – Individual – Sat | USD 105.00 |
| All Inclusive Day Pass – Individual – Sun | USD 105.00 |
Show Only Passes (Includes Dinner)
| | |
| --- | --- |
| Friday Show Only Pass – VIP (USD 75.00) | |
| Friday Show Only Pass – Premium (USD 60.00) | |
| Friday Show Only Pass – Regular (USD 45.00) | |
New Pratima Puja and Archana Sponsorship
---
Notes:
All Puja package pass, show pass sales are final.
Family is considered as husband, wife/spouse, kids below 18 years of age and their visiting parents.
All kids / parents acquiring show passes, will have to purchase show passes
Sharodiya DurgOtsav 2023 Package pass includes full puja events – Puja/Pushpanjali, Bhog, Prasad, Lunch/Dinner, All local and Puja show events/entertainments, Puja Mela, Dhaki Naach, Dhunuchi Naach, Sindoor Khela etc.
Special Labor Day prices expire on September 18th.
Friday show passes are available now, all other show passes will be made available later (subject to availability of seats).
Best front row seats for all Shows will be kept for our VIP, Sponsors and Members . Be a Sponsor or a Member (Family or Individual) to avail this and many more benefits throughout the next 12 months!
Vendor Stalls/Tables are available for all 3 days, please contact [email protected] for any details
If you have any questions regarding PayPal payments or didn't receive email confirmation after online transaction, please send email to [email protected]