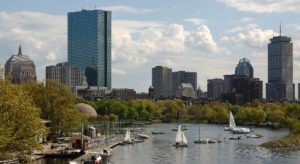 Prabasi is a greater Boston based ethnic Indian organization, established in 1981. It is a non-profit, tax-exempt organization under Section 501(c)(3) of the Internal Revenue Code of 1954 (or the corresponding provision of any future United States Internal Revenue Law).
Prabasi membership includes over 500 families of Indians and non-Indians alike but reaches several thousand Indians and non-Indians in the New England area. Prabasi exists as an Association of its Members. Prabasi's motto is to celebrate and promote the Bengali and Indian religious and associated culture within its community. Prabasi is also involved in community service which includes Boston area soup kitchen, scholarship funds for deserving high school students, bone marrow donation drives, collecting clothes for Mother Teresa's Home, nurturing and promoting the local artistic talent of children, etc.
Watch this video on the origin of Prabasi of New England.